Lake Maspenock, also known as North Pond, is a 215 acre lake in the southwest corner of Hopkinton Massachusetts. It also lies within the towns of Milford and Upton Massachusetts. Lake Maspenock has a rich history with records dating back over three hundred and forty years.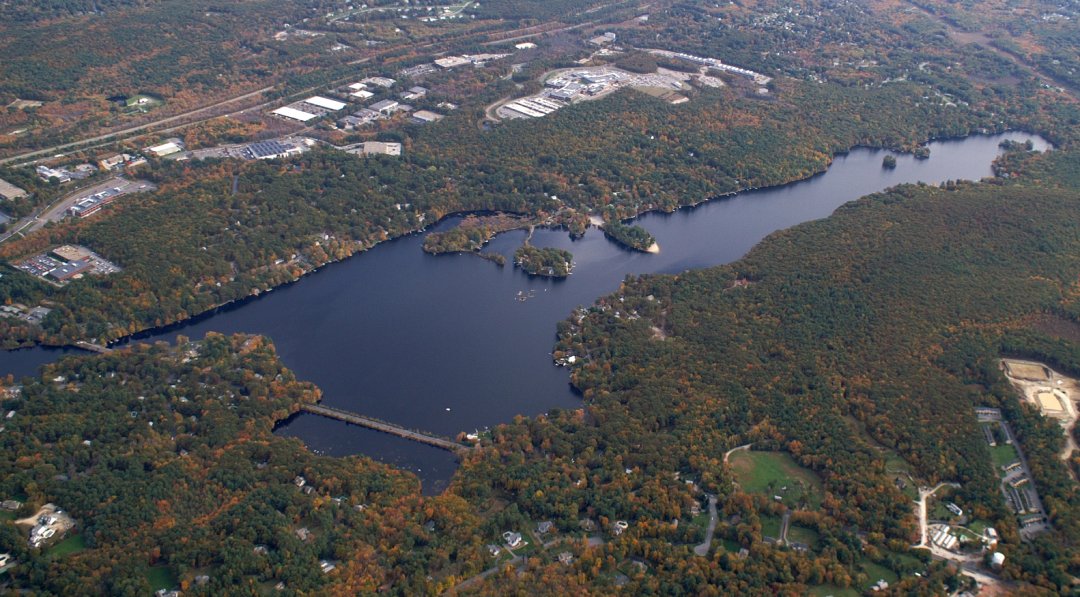 Aerial View of Lake Maspenock
Prior to English settlement, the ancient pond that is now Maspenock was a source of food and fresh water to the Indigenous Nipmuck people who named it Maspenock which meant Choice Fishing Place in their native tongue. By the early 1800s, the first dam was raised and Maspenock became the main source of power for the early settlers wool, grain, and saw mills. Later that century, a newer dam allowed Maspenock to power the Draper Mills and other area mills during the Industrial Revolution. At the beginning of the 21st century, Lake Maspenock was no longer useful to industry and the Town of Hopkinton would become owner of the dam.
Three hundred and forty years after the first settlers arrived, modern day Maspenock is a residential and recreational gem. In addition to the many historical sites surrounding the lake, it is also popular for swimming, boating, fishing, paddling, as well as several area hiking trails through multiple conservation areas.
This is THE complete history of Maspenock.
Please feel free to email any comments, suggestions, or corrections to maspenock@gmail.com Thanks for visiting!