One of the first transactions of the Trustees was the purchase of land known as Maguntaquog from the Natick Indians on October 11, 1715. The land was incorporated as the Town of Hopkinton on December 13, 1715. The Trustees were actively involved as land owners and municipal administrators of Hopkinton until 1832, when the Commonwealth of Massachusetts and the tenants jointly paid the Trustees for release of their land rights.
James Gordon was the signee to the Trustees for several plots of land around what is now Lake Maspenock including the areas that were eventually flooded by the dams. He was representing and signing "Letters of Indenture" for several people. These Letters of Indenture are what we would call Land Leases today. They stipulated that the assignee would hold the land from March 15, 1720 until the 25th of March, 1823.
Interactive Map of tenants of James Gordon of Boston, Lessee from the Trustees of Harvard University about 1720
James Gordon was born 1693 in County Down, Ireland and came to Boston about the year 1718. At this time, many Scottish and Irish people immigrated to America. James married Elizabeth Tinkham on September 14, 1721. When he first arrived, he served as a constable in Boston. In 1723, he bought pew number 62 in Boston's King's Chapel. By 1736, his status in the church had risen to the point that he became the church's first Warden. James was a merchant who sold Irish linen. James died on May 24th, 1770 at the age of 77. Because of his prominent position in the church, he was buried beneath the chapel in tomb #8 near Thomas Bullfinch.
James Gordon's success allowed him to become a land speculator and landlord that leased or purchased lands in various sections of Massachusetts in the early to mid 1700s. About 1720 he leased six plots of untamed land in Hopkinton. He soon sub-leased these lands to several Scottish farmers who moved their families, cleared the land, and built farmsteads. A Congregational church was organized in Hopkinton on Sept. 2nd, 1724. Seven of the original members of this church were Scotch Presbyterians leasing land from James Gordon and five other Scottish families soon joined them. The beginnings of the church were informal and no real discussion of church government was had at the outset. These men only conscientiously assented to the covenant and united in Christian communion without much form of organization.
According to: A History of Hampden County, Massachusetts. On April 9th, 1731, the church elders voted to comply with the "Platform of Church Discipline" agreed to by the Synod of Churches, which had been assembled in Cambridge in 1649. This vote gave great offense to the Scottish Presbyterians. About ten of the families immediately withdrew from the communion of the church. They were brought under church discipline and eventually several of them were excommunicated.
The records of the First Congregational Church in Hopkinton contain the names of those who were excommunicated. William Dunahy, Robert Hambleton, Jane Wark, Rebecca Wark, John Hambleton, Israel Gibbs. Mary Gibbs, Hugh Hambleton and Mary Hambleton, all tenants by James Gordon, were all part of the group that were excommunicated.
In 1734, these families all left Hopkinton and became some of the first settlers of what is now Blandford, Massachusetts. They named their village New Glasgow, as they were promised a church bell from the city of Glasgow, if they would name the town after it. They quickly organized a Presbyterian church there and built a small meeting-house about a mile and a half west of their village.
---
The Chapin Family
In the year 1664, Samuel Chapin of Springfield was granted 200 acres of land for services rendered to the crown. In June of 1664, Samuel Chapin deeded his son Josiah Chapin, his rights and title to these lands. By 1682, Josiah Chapin had been chosen as surveyor and Chairman of the Selectman of Mendon. He was made a Freeman of the Colony in 1678 and was a Justice of the Peace by a commission from the British Parliament. He was a signatory of the 1691 North Purchase Deed, where the name Maspenock is first referenced. For many years he was the largest taxpayer in Mendon.
Seth Chapin (1668 - 1746)
Seth Chapin built a family homestead near the Post Lane bridge on the Mill River sometime before the year 1700. He went on adding to his real estate holdings until he became the owner of several hundred acres of land.
Lydia (Chapin) Taft, was the daughter of Seth and married Josiah Taft on December 28, 1731. In the autumn of 1756, her son, Caleb, became ill while studying at Harvard and died. Her husband Josiah Taft, went to Boston in order to bury Caleb and he himself became ill and died soon afterward. The death of Josiah Taft happened immediately prior to an important vote in Mendon concerning the town's financial support of the French and Indian War. At that time the only individuals allowed to vote were free male property holders and Josiah's estate was valued as one of the largest in the town. Josiah's untimely death meant that his wife would go down in American history. Given the important nature of the vote, the landowner and taxpayer status of her husband, and that Lydia's oldest surviving son was still a minor, the townspeople voted to allow Lydia to vote in her husband's absence at this important meeting on October 30, 1756. Lydia cast her vote in favor of appropriating funds for the French and Indian War, thereby giving herself the distinction of being the first woman to vote in America! Deborah (Chapin) Nelson, the daughter of Capt. Seth Chapin, married Nathaniel Nelson on April 15, 1725.
---
The Nelson Family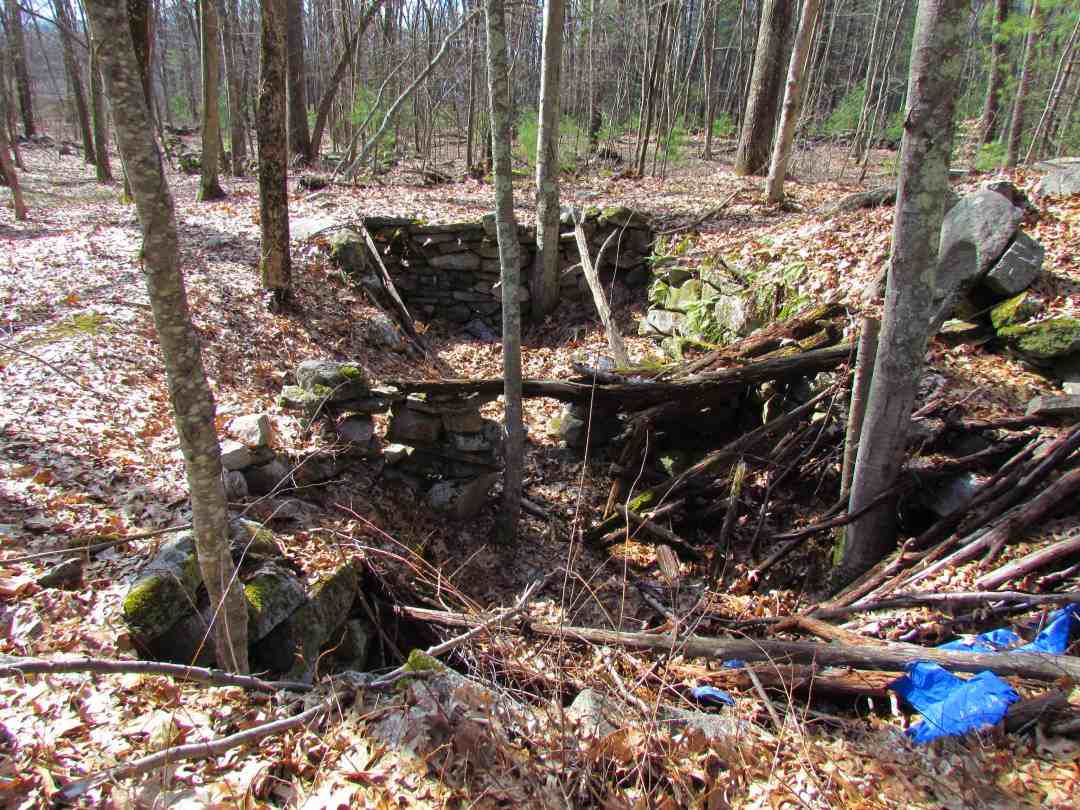 Cellar Hole Nelson Farmstead about 1756
Nathaniel Nelson (1701 - 1783)
Nathaniel Nelson was born on April 22, 1701. He married Deborah Chapin, the daughter of Capt. Seth Chapin, on April 15, 1725. The marriage was certified by her grandfather, Josiah Chapin, Esq. He was listed as a weaver in deeds and other legal instruments. He was chosen as a deacon of the First Church in Mendon and then a ruling elder. He inherited one-third of his father's real estate. Nathaniel and Deborah Nelson had four sons and three daughters. The Nelson family were very pious people. Nathaniel's son and grandson would follow in his footsteps and become deacons of the church. Deborah Chapin Nelson died on July 21, 1777, at the age of nearly 73.
Seth Nelson (1735 - 1811)
Seth Nelson was born on June 22, 1735. He married Silence Cheney on Oct. 28, 1756. Seth and Silence Nelson had seven sons and five daughters. According to historian Rev. Adin Ballou, who wrote the book, History of the town of Milford, Worcester county, Massachusetts, from its first settlement to 1881. "Seth Nelson always resided on our territory; was a deacon of the church and a worthy citizen. His family homestead is understood to have been in the vicinity of Bungay, perhaps the Partridge place, so called.
In fact, the Nelson homestead was close to "Bungay", but not the "Partridge Place" that Ballou spoke of. The old Nelson homestead stood just over the town boundary line in Hopkinton at the end of what we now call the Old Town Road. The foundation and well for the old Nelson Farmstead can be found at the following coordinates: 42°11'14.3"N 71°32'53.4"W.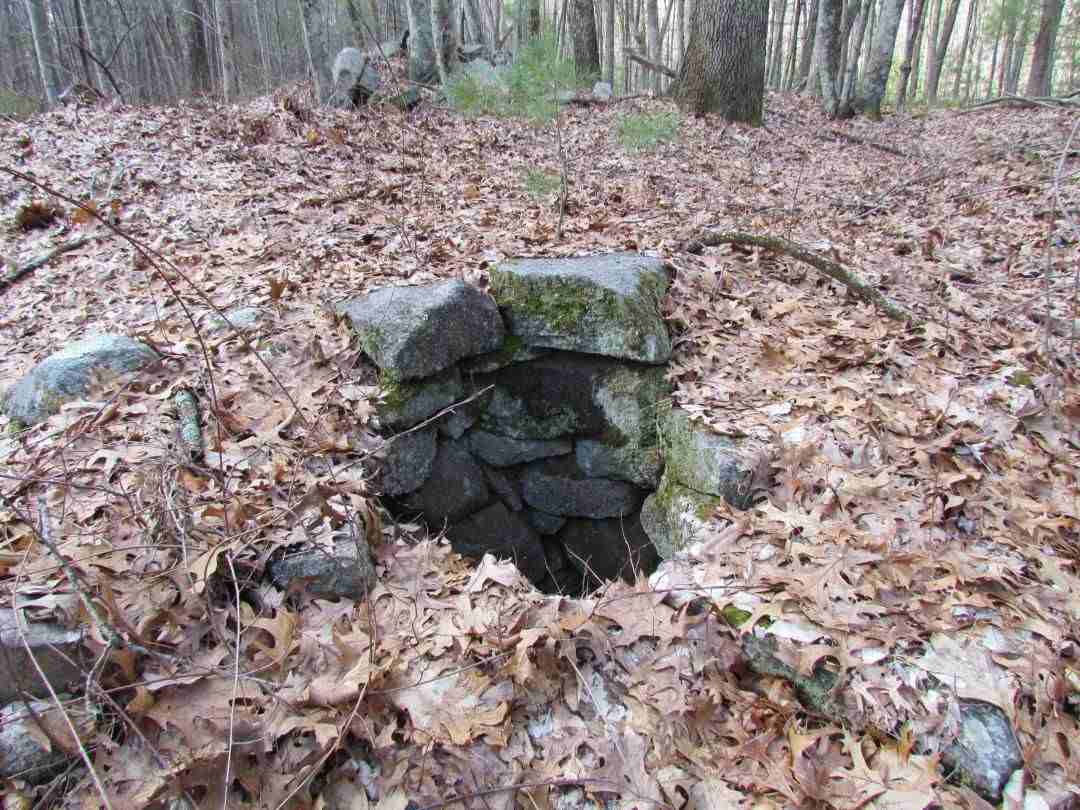 Nelson Farmstead Well
John Nelson (1761 -18?? )
John Nelson was born on Aug. 27, 1761. He married Betty Brown on Nov. 28, 1782. Betty Brown, lived in Newport, Rhode Island, until she was sixteen years of age when the family moved to Milford. Her father was a soldier in the Revolutionary Army. During his absence, while the family was on a visit to Newport, a British fleet came to take possession of the Island. Betty and her mother, "with a married sister with a little child and another daughter quite young, fled with the frightened people across Howland's Ferry to the mainland, leaving everything in their house, even a dinner in process of cooking, and made their way to Milford on foot."
John and Betty Nelson lived at the farmstead at the end of Old Town Road until April 1799, when John left, "taking all of his cattle and goods and the next day settled on a farm in the north part of Worcester.
John Nelson Jr. (1786-1871)
Like his father and grandfather, John Nelson Jr. went into the ministry and would become pastor of the First Church and Society in Leicester, Massachusetts, where he served a long and illustrious career.
"John Nelson graduated from Williams College in 1807, being one of three to be honored with an English Oration. In scholarship, said one of his class, he had no superior. He had struggled hard for his education, his course had been interrupted by teaching, he was diffident and depressed in spirit. He gave his father's note for his college bills, and had five dollars in his pocket, which he had borrowed."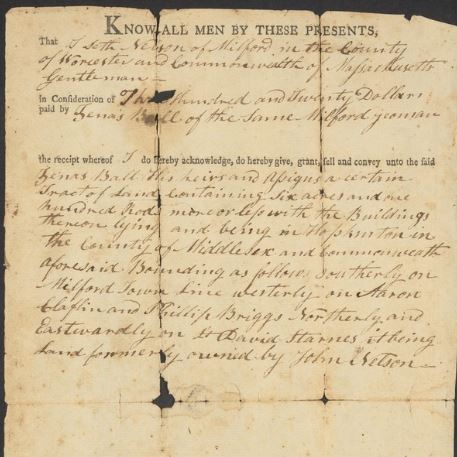 1809 Deed Seth Nelson to Zenus Ball
In 1809, the farm was sold to Zenus Ball and in that deed it is notated that the farm was "formally owned by John Nelson". Since John had taken a loan to send John Jr. to college, it seems the farm would be of no use and they sold the land to pay off the loan.
In 1833, the remaining Nelson children deeded their mother Silence's interests in the land and sold it to John Parkhurst who purchased much of the land on the eastern shoreline from Clark Fisk.
---
The Ball Family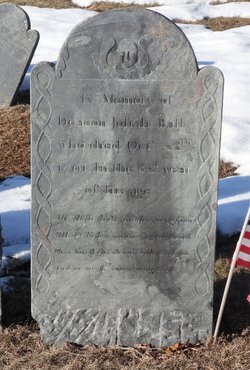 Josiah Ball (1713 - 1791 )
Josiah Ball Sr. was born March 2, 1712. He married Rachel Corbett on July 3, 1733. He was remarried twice afterward as a widower. Josiah and his brother Peter purchased 200 acres of land east of Lake Maspenock bordering northerly on the Hopkinton line from William Brewer of Boston. The cost of the land was one hundred and eighty pounds. At that time Purchase Street was a narrow horseback path. The selectmen of Mendon laid a three-rod wide road along the path the same year as the purchase to allow an ox and cart to be able to pass. This path is today's Purchase Street in Milford. Josiah Ball eventually purchased many parcels of adjacent land which he settled on. He was one of the first settlers in the area of Purchase St. He was a major figure in the North Purchase Village including donating the land and paying for the North Purchase School. This historic one-room schoolhouse has been preserved and can be visited today.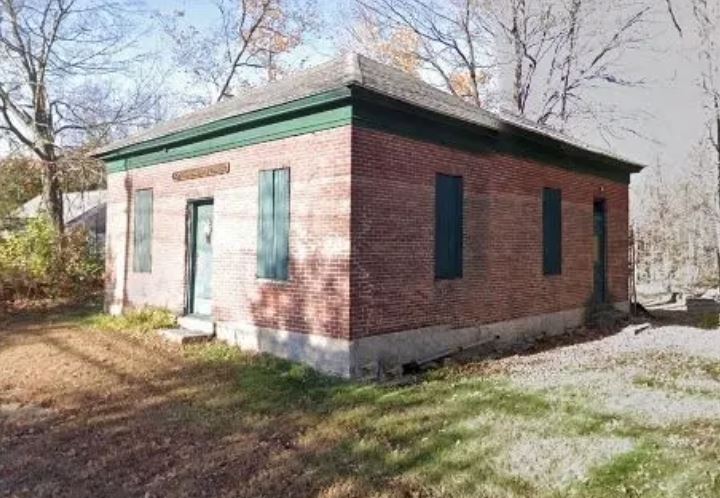 North Purchase Schoolhouse built in 1832 by Josiah Ball
According to Rev. Adin Ballou: "Josiah Ball owned one slave, whose name was Andrew Dewner, sometimes written Duno. Shortly after Josiah and Rachael Ball had lost an infant, he rode into Boston to do business. While in Boston, a baby of only 4 weeks old was presented to him by a friend. He brought the little fellow all the way from Boston on horseback, nourishing him at intervals out of a nursing-bottle. It was after midnight by the time Josiah reached home. His wife was asleep in bed and not wanting to wake her, he carefully laid the sleeping baby on her bed and left it there to care for his tired horse. Before he returned, little Andrew awoke crying which frightened Rachel half out of her senses. She was utterly surprised by the mysterious demonstration. But her husband presently appeared for her relief and explained the situation.
Andrew grew up a faithful and trustworthy servant and received his freedom at 21. Josiah also gifted him a white horse for a present. He exchanged the horse for a slave girl in Marlboro named Rose. Andrew and Rose were married and Josiah gave them a little homestead comprising 12 acres of land and a small dwelling-house."
Josiah Ball Jr. was born on April 13, 1742. He married Sarah Palmer from Upton on March 15, 1744. Josiah Ball Jr. and Sarah Ball had four daughters and two sons. The Ball family were very prominent members of early Milford society. Their land holdings included most of the houses near the intersection of Camp Street and Purchase Street in Milford, known as the "North Purchase Village" This village consisted of a Meeting House, Church, School, Stores, and a Bowling Alley.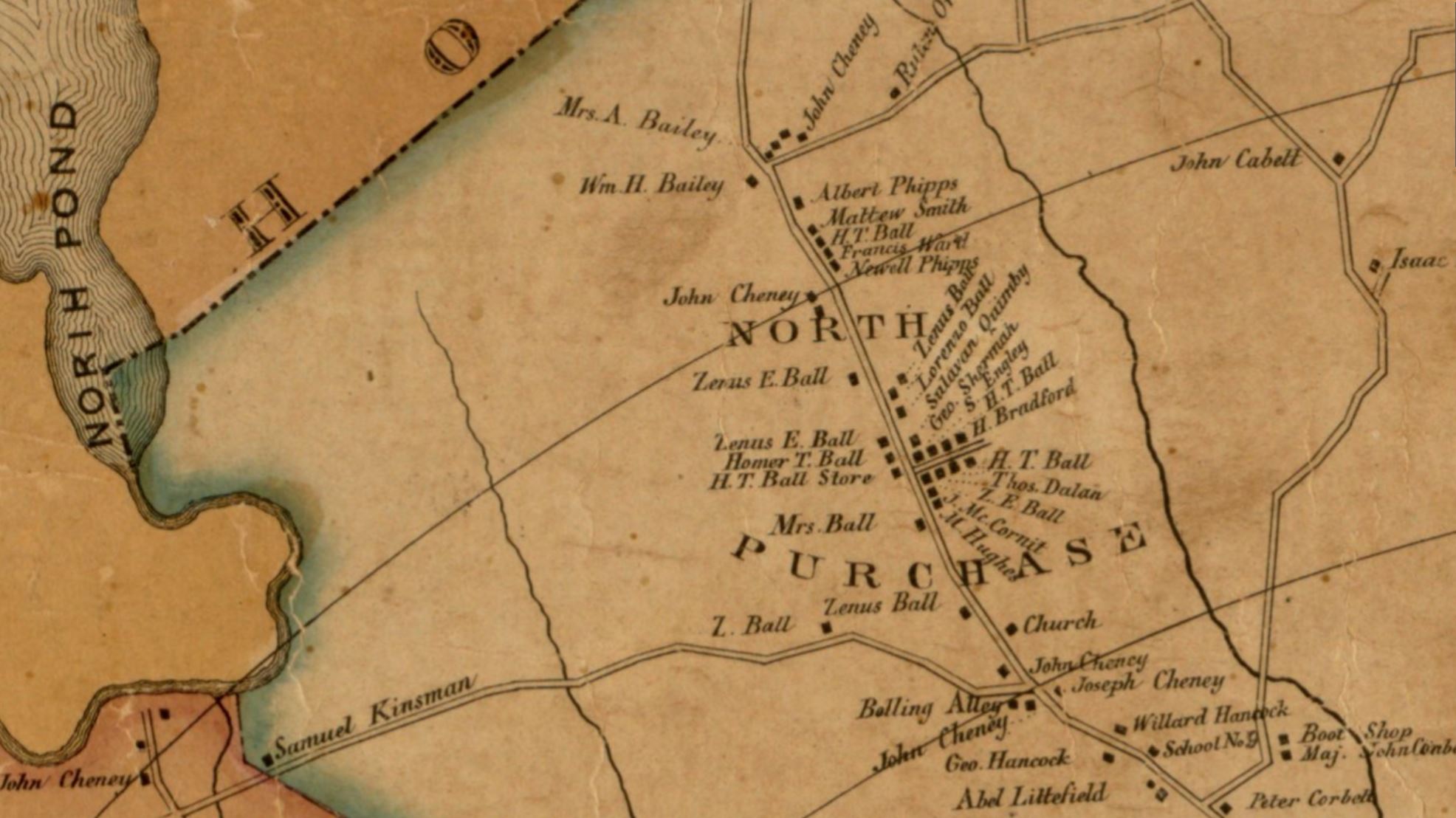 Map of North Purchase Village, Milford, Massachusetts 1850
Zenus Ball, son of Josiah Ball Jr., was born on July 12, 1778. He married Mary Sumner in 1806. According to Rev. Adin Ballou: "Zenas Ball inherited his fathers old homestead, a handsome landed patrimony, but hardly the enterprise of his progenitors. He died on April 1, 1861 at 73 years of age." Zenas Ball is noteworthy historically because his family papers have been preserved online at Harvard University. One of those documents is an 1809 deed purchasing the old Nelson homestead at the end of Old Town Road from Seth Nelson. If not for this deed, we would not have been able to trace the land back to the Nelson family. Shortly after purchasing the Nelson land, Zenas sold it to his sister Rachael and that deed has also been preserved.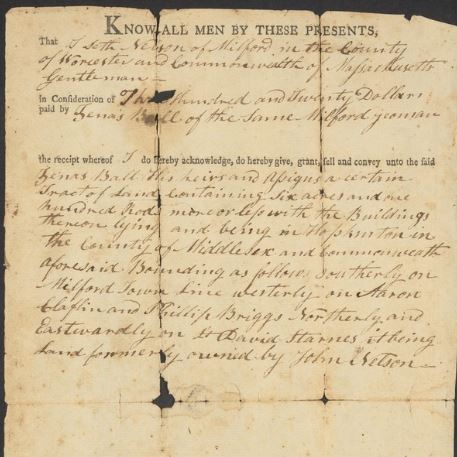 Deed Seth Nelson to Zenus Ball 1809
Rachael Ball Desper, daughter of Josiah Ball Jr. was born on March 15, 1771. She married John Desper (Despeaux) on June 12, 1806. Two years later they would purchase the Nelson Farm from Rachael's brother Zenas. The deed for that transaction has been preserved online as well. They lived and farmed the land for at least 50 years as Rachael Desper is listed as living with her nephew Abner Ball in 1859. Rachel Ball seems to be the last person to live on the old farmstead and it was abandoned shortly after the civil war like so many of the local farms. The six-acre plot seems to have become part of a larger merged plot of land at some point later in time. The entirety of what remains of Old Town Road and the Nelson Farmstead is located on private property at present 2022, owned by Dell Corporation.
Old Town Road was replaced by the new town road, Purchase Street, and was discontinued at the town line in the 1730s. There are several other cellar holes on Old Town Road, perhaps originally farmsteads divided among the other Nelson siblings but it is hard to document as the deeds for these have been lost to history. The Map of Hopkinton Massachusetts dated 1831 shows three farms with the names Haynes, Wilson and Desper. This map also shows a man namd Littlefield operated a saw mill along Old Town Road north of these farms. His house was on the west side of South Street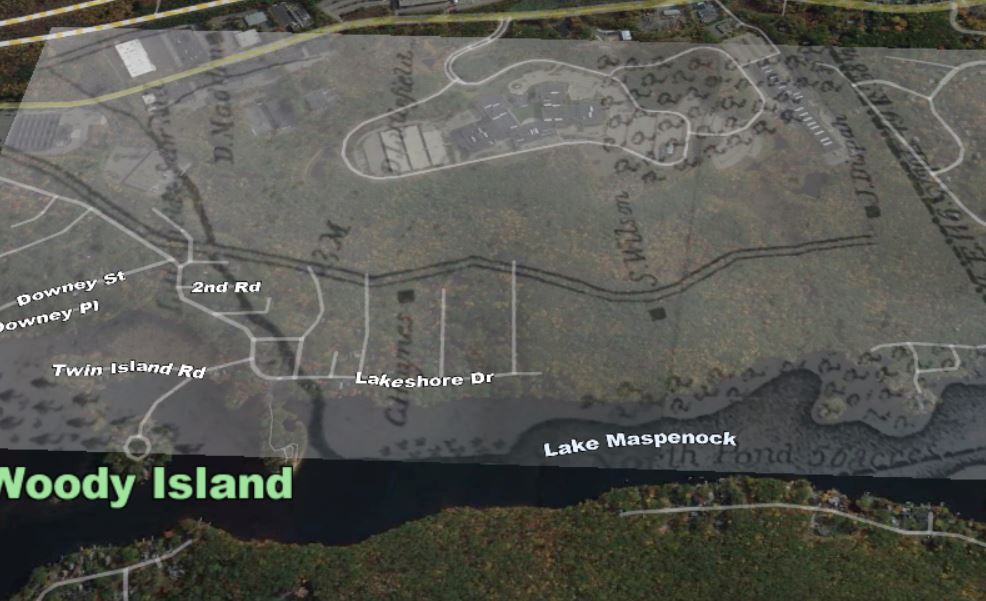 Map of Old Town Road 1831
---
Joseph Cody
Joseph Cody (1736 - 18?? )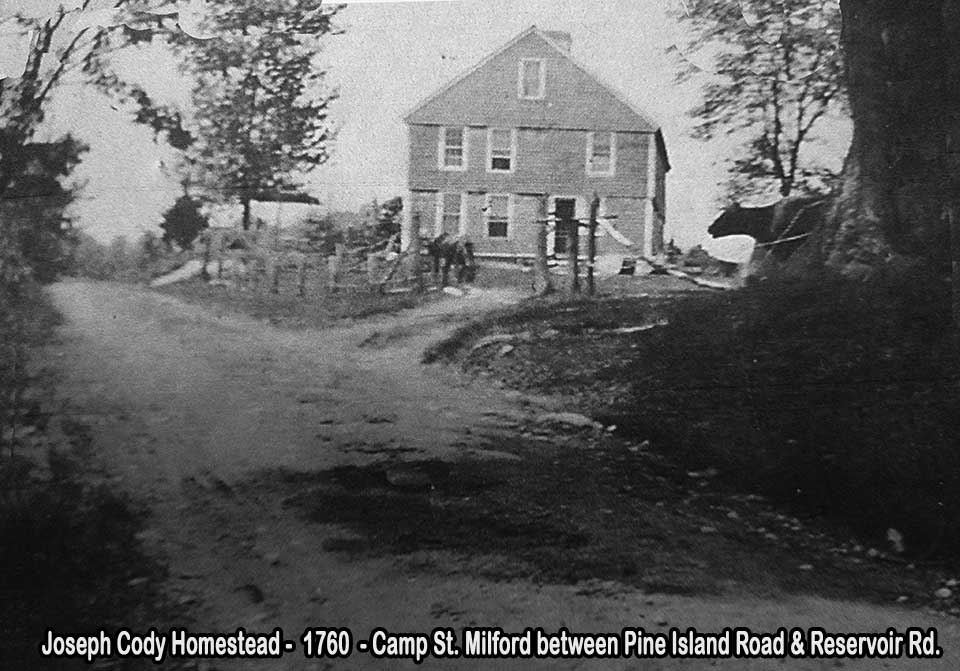 1760 Joseph Cody House from Camp Street
In 1760 Joseph Cody would build a farmstead on Camp Street close to the intersection of Pine Island Road today. It would later become known as the Partridge Place after Aaron Partridge who bought the property from Mr. Cody in 1799. The Partridge family lived in this spot for generations.
We get some more history on this property from Adin Ballou's History of Milford P.952: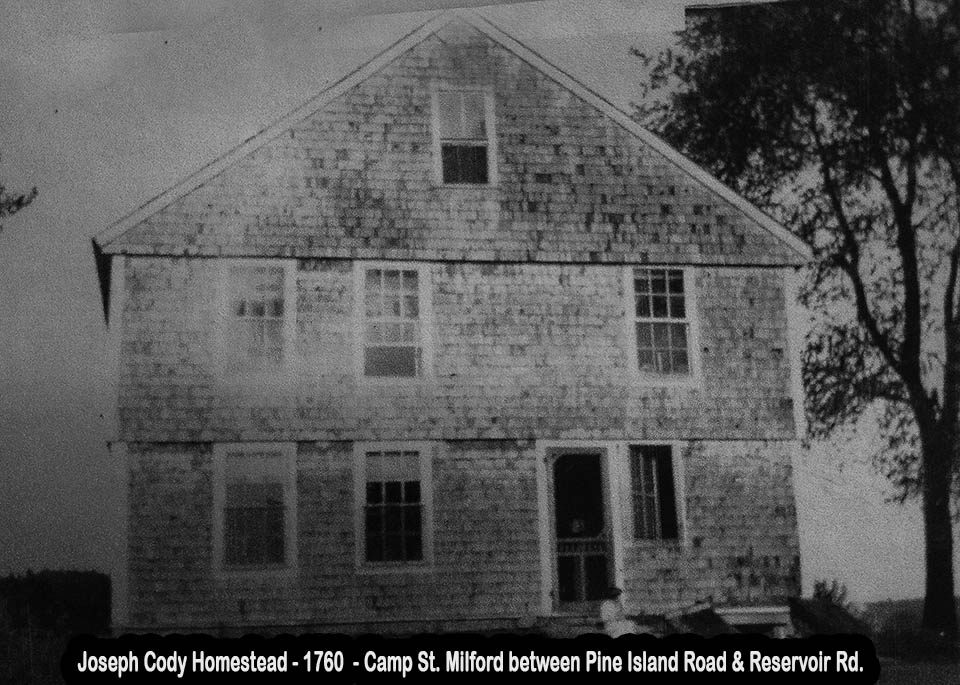 1760 Joseph Cody House
"Aaron Partridge was born in 1774 and purchased the old Cody place in Milford on Camp Street near Bungay in 1799. Joseph Cody was from Hopkinton, the son of Isaac and Hannah Cody, born May 2, 1736. He settled in the vicinity of Bungay around 1760 on what has been in our time called the Partridge place. This family remained in town some little time after its incorporation. I think he was its first constable, and was styled "Lieut. Joseph Cody." He was a carpenter and tradition says that he seldom used any measuring implement, but laid out his framing work so accurate by eye that all his joints and mortises fitted exactly when his frames were raised. He probably moved from town, perhaps to Hopkinton not long after its incorporation. I cannot trace him further."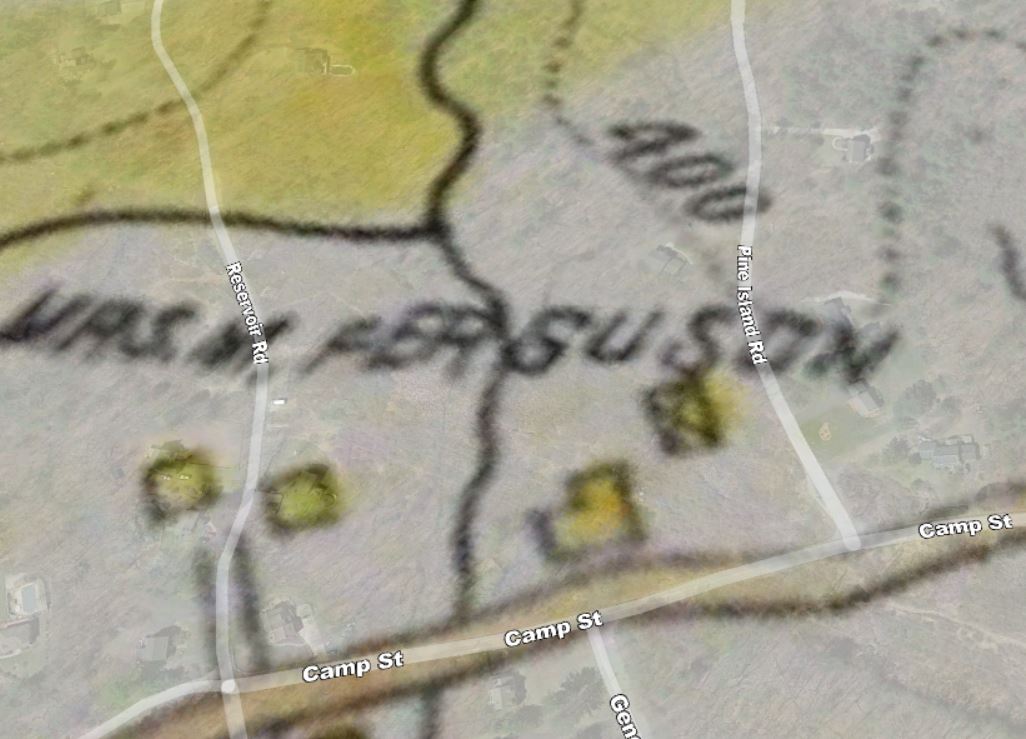 1897 Map of Milford Massachusetts
An 1897 map of Milford shows a lady named Mary Ferguson as owning the Cody farm and the last owner was the Harding family, William Harding is shown in front of the house in the picture below.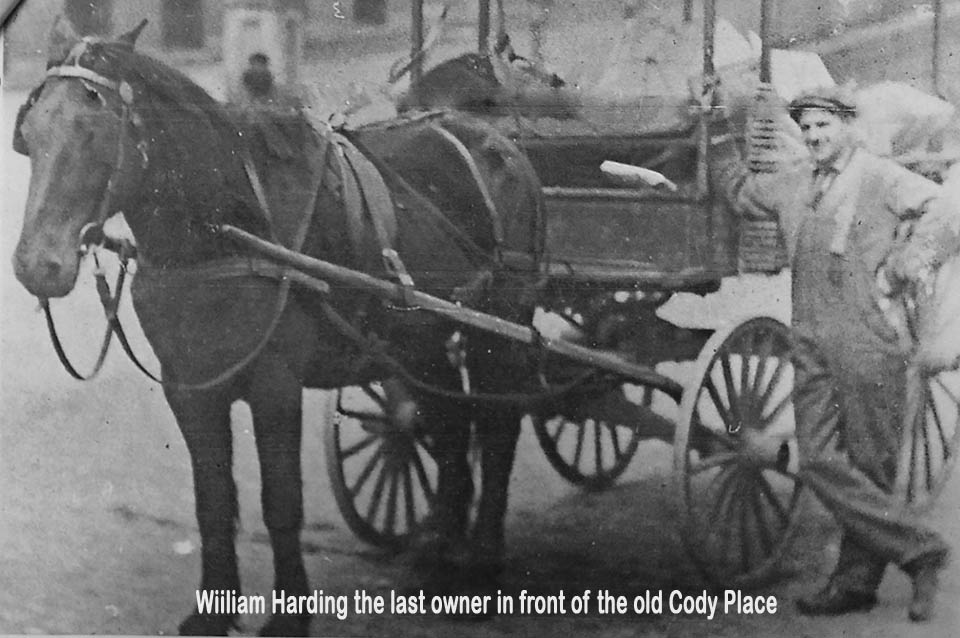 William Harding - Last family to live in the old Cody house
The New England Power Company purchased the land that the house was on to install high tension wires and the old swamp they called Bungay has reclaimed all but the cellar hole of Joseph Cody's Farmstead.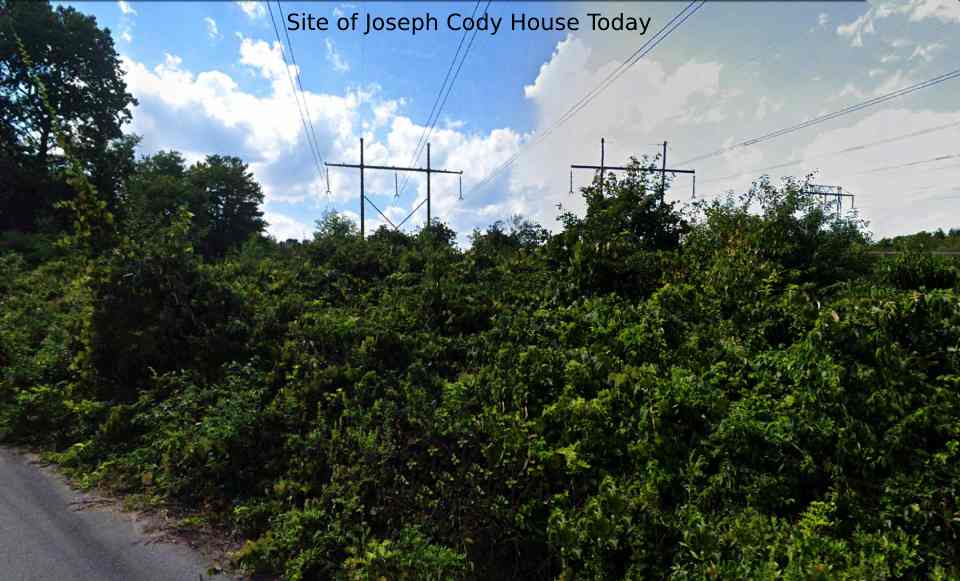 Site of Cody House Bungay - Milford Massachusetts
---
The Hunt Family & Mills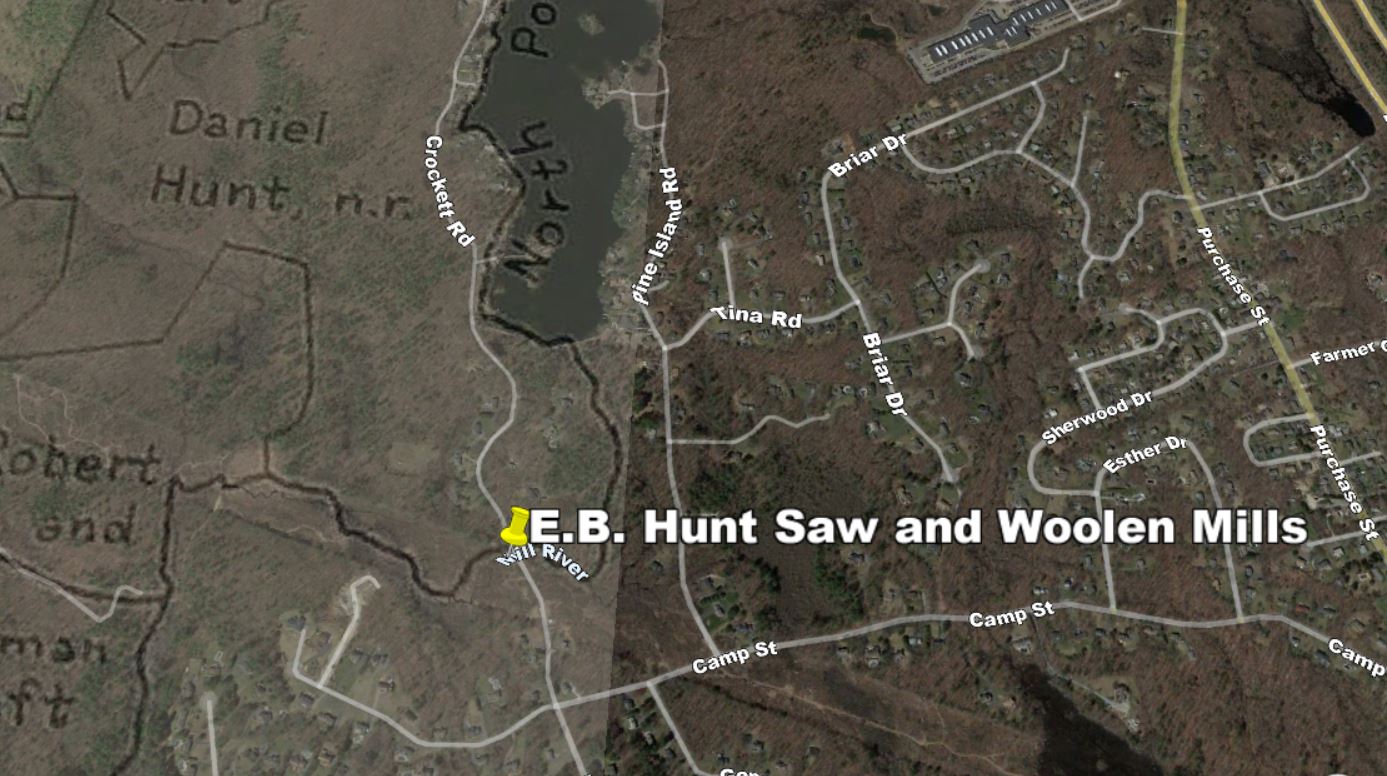 Map showing location of the Hunt Wool Mill
Daniel Hunt was born in 1743 in Holliston, Massachusetts. He was the son of Abidah Hunt and Phebe Pratt Hunt. Daniel and his wife Mary Hunt had several children, among them Pearley, Mary, Joseph, Ebenezer, Adam, Joel, and Abigail.
Daniel Hunt marched to Concord, Massachusetts on the alarm of April 19, 1775. He was a Corporal in Captain Staples Chamberlin's Company of Militia from Holliston which was in Colonel Samuel Brewer's Regiment. The Hunts moved to Milford, Massachusetts in the mid-1770s. Daniel and Mary appeared in the first Federal Census, 1790, in Milford. Daniel's son, Ebenezer, would build a wool factory that stood at the point where Reservoir Road now crosses the Mill River.
According to Ballou's History of Milford,"Two small manufactories of cotton and woolen goods had been started in town: one in Bungay, so called by Ebenezer Hunt as early, perhaps, as 1827 ; and the other, not long after, in the Centre, by Stephen R. and Parmenas P. Parkhurst. These had a run of several years in both places, but were doomed to extinction. Pecuniary losses, fires, etc., desolated them".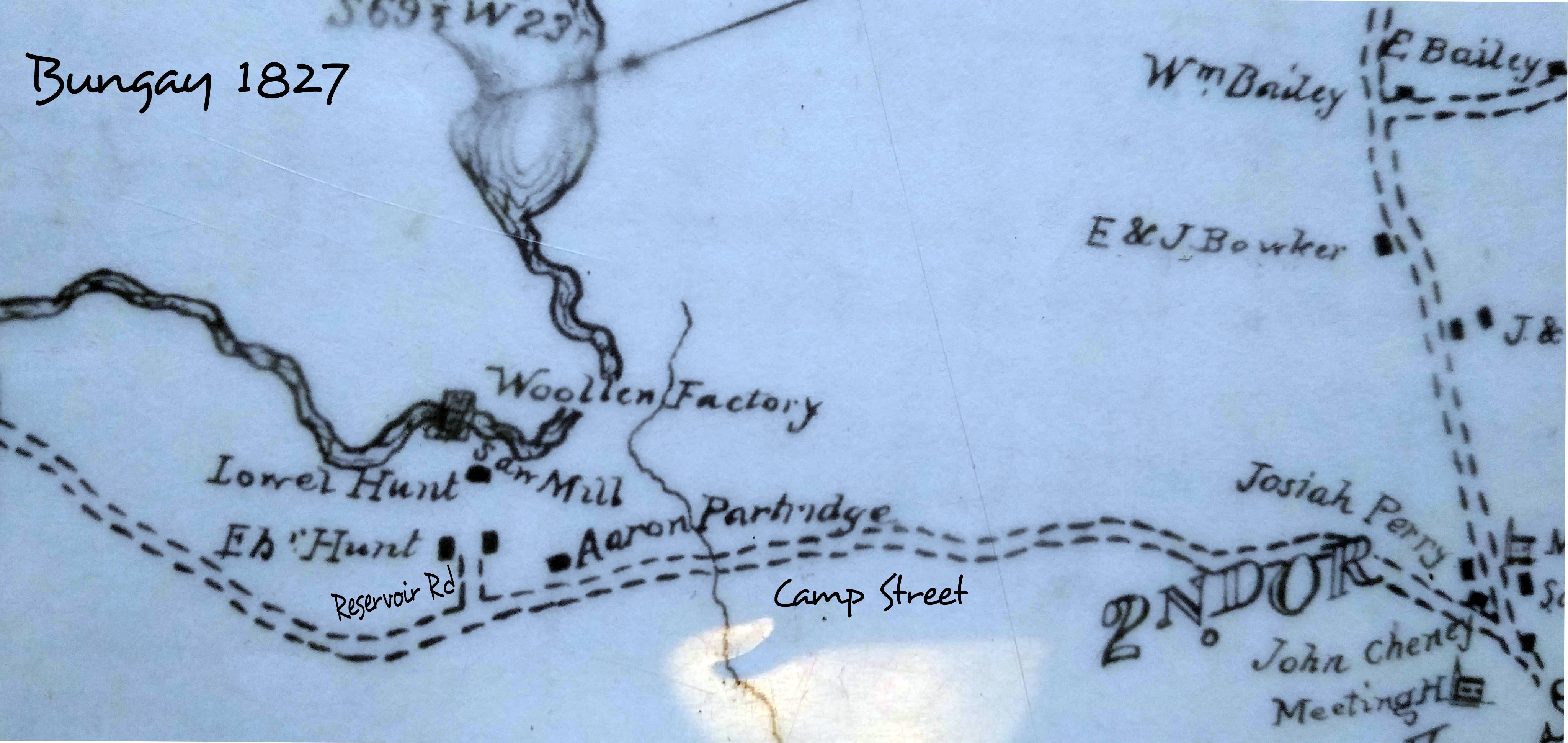 Map of Bungay area 1827
In 1842 Lyman P. Lowe's factory in Bungay was listed as burned and "still desolate". Adin Ballou's History of Milford also refers to a man named John Schofield who oversaw the factory operations: "John Schofield was born Dec. 15, 1793, listed as a woolen-factory operative and overseer. Mr. Schofield came over from England at 20 years old. He was long an operative and overseer in woolen factories but later betook himself to boot making. He dwelt at Bungay at one time when the woolen manufacture was carried on there; and one, at least, of his younger children were born there. He was an ingenious, industrious, honest, and kind-hearted man in his own somewhat peculiar way." In the book Upton Massachusetts 1735-1935 P.33 we find some more detailed information:
"Before the town was incorporated many homes spun and wove cloth. Mothers, daughters, and children engaged in these home arts which were necessities. So when Ebenezer Hunt set up his two sets of machinery and a dye house at the foot of the pond, he was changing the habits of many homes but giving steady employment to a considerable corps of workers, and bringing cash into circulation and benefiting the town. The yearly output was 31,200 yards of cloth valued at $15600 in 1837. The burning of the mill in 1843, ended the weaving industry in town."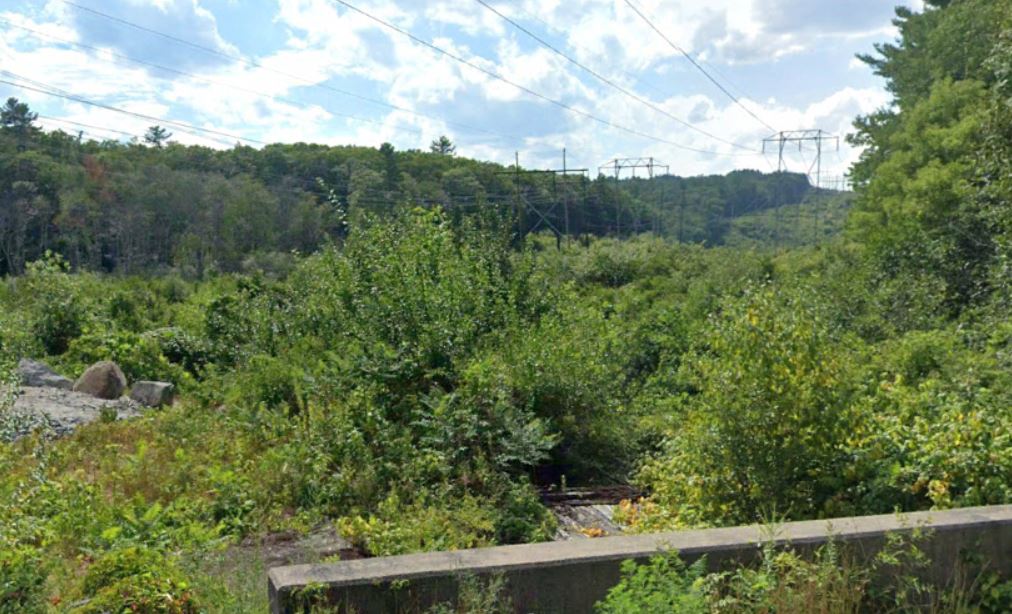 Location of Hunt Mills today
The foundations of the Hunt mill are still evident where Reservoir Road crosses the Mill River
---
The Taft Family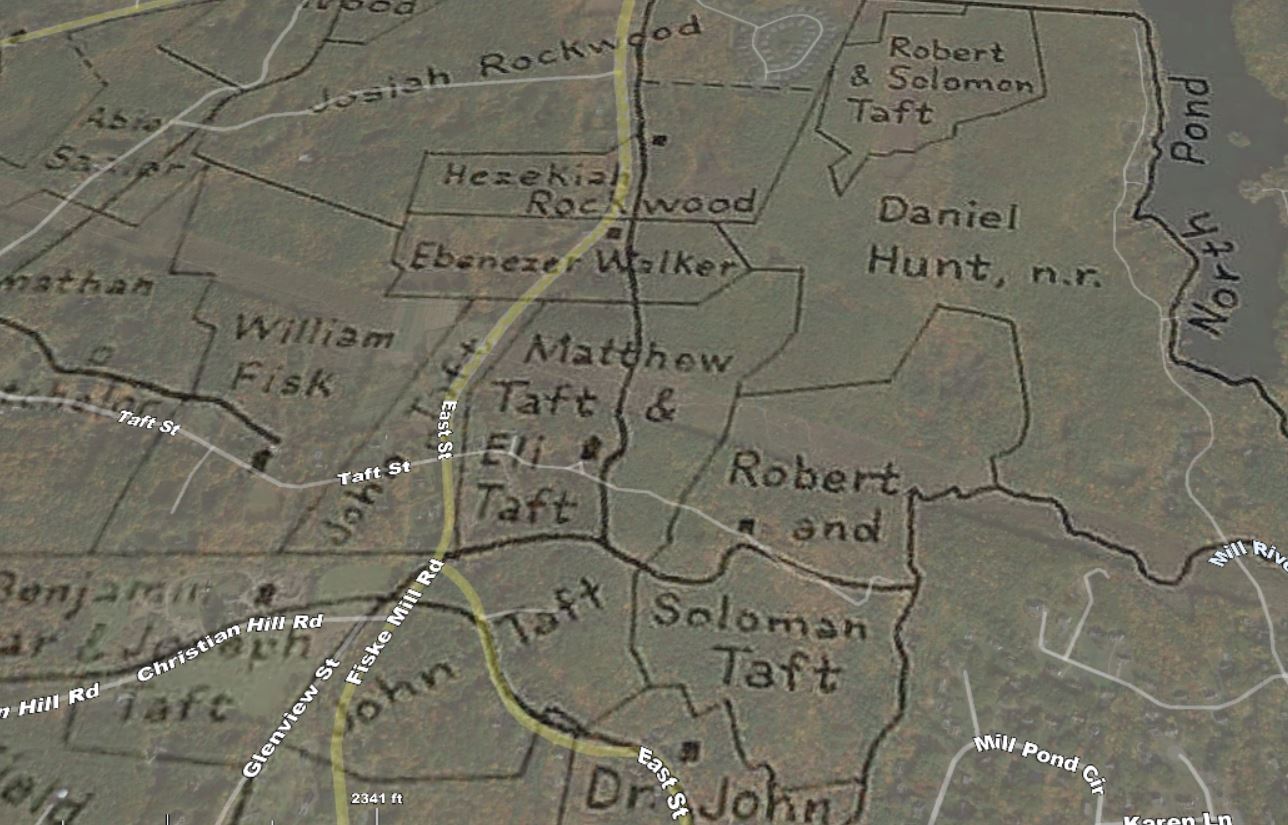 Robert Taft (1724 -17?? )
Robert Taft was born in the year 1724 in Ireland. married Jane Creage/Mary Whitney. He and his descendants settled the area at the west end of Camp St., just across the Mill River in Upton. They cleared the woodlands near Peppercorn Hill and setup farmsteads. On the 1794 map of Upton, we can see the land in that area divided among his sons and grandsons. The walls that you see when you hike this conservation area were built by these men for roads and boundary markers. The Taft family were important members of early Upton society.
It is most likely Robert Taft who first surveyed and laid out Camp Street. Rev. Adin Ballou mentions that Camp Street was widened in 1754 but had been a "proprietors way long before." Robert Taft was that proprietor. He was present for the first Town Meeting in Mendon that was held after the settlers returned from abandoning it during King Phillips War. Robert Taft's original homestead is located in the Peppercorn Hill Conservation Area along Taft Street in Upton. This can be accessed from Camp Street on the Milford end or Taft Street at the opposite end. Click here for a trail map.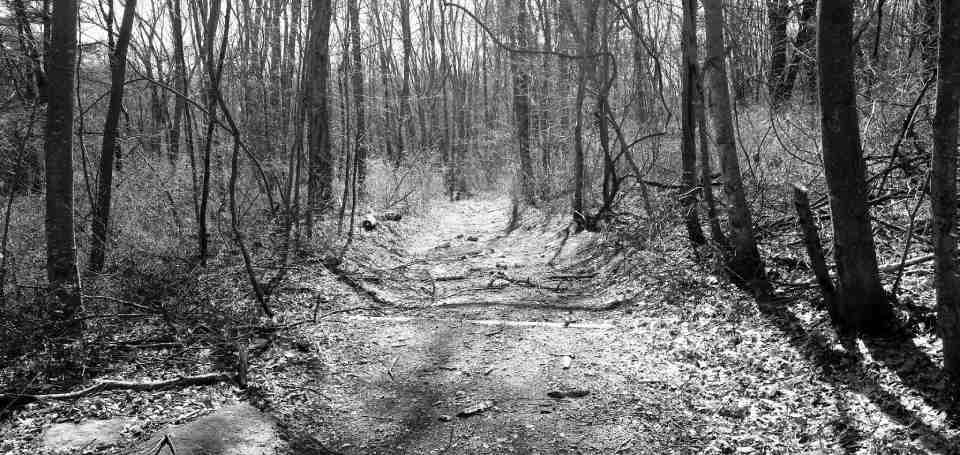 What is great about hiking this area is the fact that the old cart roads remain much the same as they were back then. The upper part of Taft Street was an engineering miracle for that time period. We can see on the 1754 map the the road did not extent strait as it does today. When it was first laid out, the road only ran westerly until it reached the spot that Robert Taft built his homestead and then took a sharp left turn. This was do doubt to avoid the steep terrain ahead. Years later his descendants would complete the road, building 30 foot retaining walls out of field stone and filling the area. This was quite the feat for the time and the walls are still holding up the road today.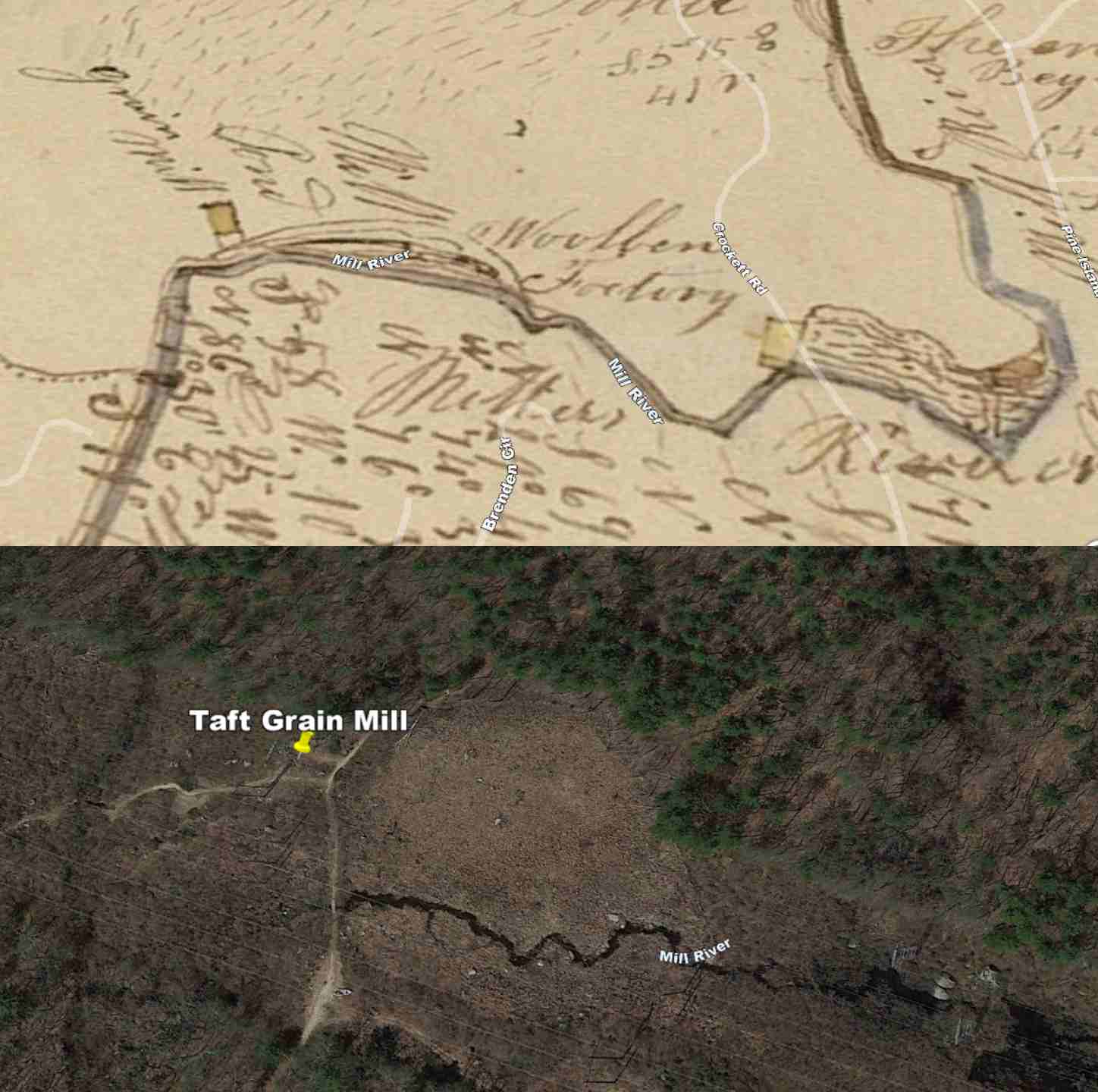 Robert Taft also had a mill along the Mill River. An 1831 map of Milford shows a mill pond and grain mill located on the property of Robert and Solomon Taft and it is not surprising since they were a large family with a lot of fields. It is unknown when the mill was built or torn down but it predates the Hunt Wool Mill that was built later. The location of the Robert and Solomon Taft Grain Mill is under the power lines at: 42.179395639674674, -71.56124423120981. Looking at it today from Google Earth, you can clearly make out where the old mill pond used to be. Another thing to note is the fact that not only does the Mill River flow to this area, but it is also joined by a stream that comes from a marshy area on the western side of Peppercorn Hill. Although most of the land on Peppercorn Hill was owned by Daniel Hunt, this odd shaped marsh area was owned by the Tafts. From above it looks like there once may have been a dam retaining water there at one time. When Hunt Wool factory was built upstream on the Mill River, it would have significantly reduced the flow of water to the Tafts mill and it looks like this might have also been a pond used to create an additional head of water for their mill.
Our Puritan forefathers were none too pleased with Robert Taft who was accused of providing the local Nipmuck with alcohol. This endangered the community to the point that the natives had become violently drunk and the Town of Mendon petitioned the General Court of Massachusetts for relief. From the "Annals of the town of Mendon, from 1659 to 1880" written by John Metcalf:
"In reference to those good and wholesome laws that are in force against the selling of drink to the Indians and our care to detect such men as are transgressors of them. This sin is being practiced by some amongst us who drive a trade with the Natives out of a design of gain from that source, and we are in continual fear of what the dismal effect thereof will prove. It has not been a month since there have been three murderous attempts by Drunken Indians amongst us so that if some effectual care is not taken there will be no comfortable abiding for us unless we will expose ourselves and ours to the rage and fury of such as are not masters of their weapons, but are ready to murder all that stand in their way"
The General Court referred the matter back to Suffolk County: "Touching Robert Taft, the person complained of for irregular trading with the Indians, that matter is wholly left with the County Court of Suffolk, to do therein as they shall judge, and unto whom the petitioners may apply themselves for relief."
The law of 1681, to which the petitioners were referred, authorized the Selectmen of Mendon to apprehend any Indian found at large and commit him to the House of Correction or to prison until he should engage to go to and abide in the Indian towns of Natick, Punkapauge or Wamesit. The praying villages had been set apart by the General Court as homes for the Indians. Whether any complaint was made against Robert Taft, in Suffolk court or if any proof of his "irregular trading with the Indians" was made is not known.